Adding an excellent quality compost in your garden can actually provide you with a slew of benefits. After all, composting is relatively easy, and it's for this reason why a lot of gardeners do it in several ways.
In this article, we'll talk about the best urban compost tumblers on the market. Whether you are a newbie gardener or a veteran, you can surely appreciate the convenience and efficiency given by such composters. Having this handy tool saves you a lot of time and effort. Say goodbye to the manual work and say hello to ease and convenience.
How to Choose the Right Compost Tumbler
Before we talk about the various compost tumblers on the market, let us first consider the things you should watch out for when shopping one. They're as follows:
Your Method of Composting
The first thing you should consider is how you compost. This is really important as it can help you determine the design of your composter. For example, if you plan on adding materials on a regular basis, you would want to go for a dual-chamber version.
However, if you only choose a single chamber compost tumbler, you'll have to open it to add new material every now and then.
Where You'll Be Placing Your Composter
Another thing to consider is the location you plan to place your composter. If you plan to place yours in an area with a steep slope, then you should go for a compost tumbler that comes with a broad base.
Also, composters can easily attract pests such as rats and foxes. Therefore, you should make sure that it's placed in an area where it can be kept shut. You'd also want to consider the weather condition in your area. If you leave in a hot climate, the composting process will be complete a lot faster. 
On the other hand, if you live in a cold climate, you're better off going for a composter with a black finish to help it absorb the sun's rays and hasten the composting process.
Ease of Assembly
Compost tumblers will vary when it comes to their ease of assembly. Some composters on the market come in ready-made setups without any assembly required. However, some would require two persons to set up.
For this, you'd want to check customer reviews to find out if a composter's instructions are easy to follow and how long it took them to assemble theirs.
Why Use a Compost Tumbler
Most people opt for compost tumblers because they've seen them from commercials promising quick and easy composting. Though it's true as long as the optimal conditions are met, such conditions can be hard to come by. Therefore, why should you consider getting a compost tumbler instead of using other composters? 
They Allow Easier Heat Management
The lack of heat can be a major problem for composting, especially during the winter season. Though a typical composter can provide some sort of insulation, compost tumblers can be transferred inside a shed during cold weathers, allowing it to function normally as it would during hot weathers.
Also, since they're enclosed, they can heat up readily during hotter weather and even maintain such heat for a long time, effectively killing off any pathogens or weeds that might be present.
They Provide Protection from Animals
When composting, you'll regularly see raccoons, deers, or any animals invade the compost pile in search for food. However, since compost tumblers are designed to be fully enclosed, you can keep your compost protected from such animals.
They Look Organized
Lastly, compost tumblers have the benefit of appearing well-organized. As opposed to the traditional compost pile, tumblers can be secured in a specific spot hidden out of plain sight. This can help keep your area clean without all those messy decomposing materials.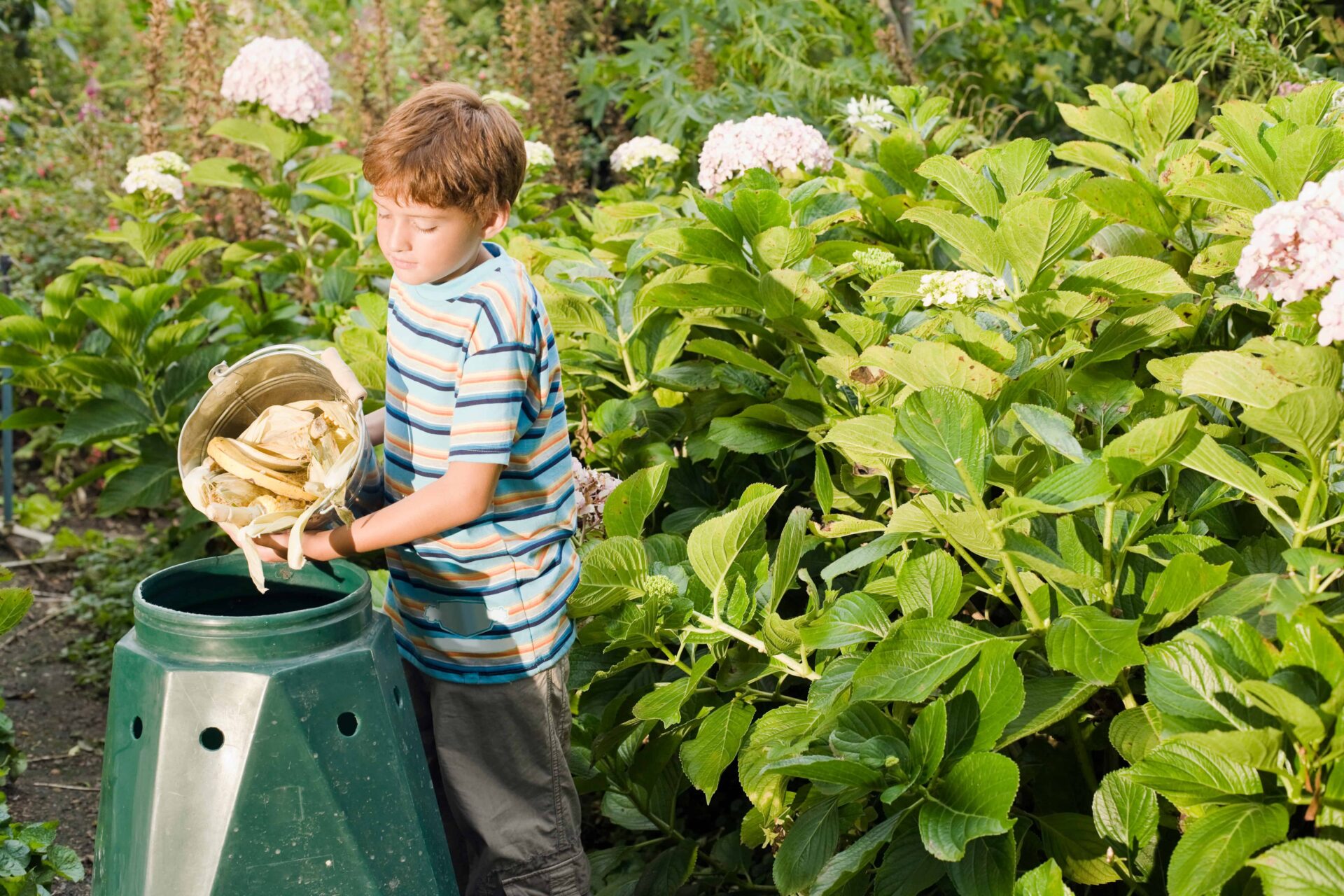 5 of the Best Urban Compost Tumblers
This composting tumbler bin from Envirocycle is perhaps the most appealing compost tumbler on the market as of now. It comes in either black or pink and is capable of holding a maximum capacity of 17 or 35 US gallons. It generates both liquid and solid compost. It's highly durable and highly innovative.
It's made of durable, BPA, and rust-free materials, making it an excellent option if you're looking for a compost tumbler to last for years. It's compact enough to fit both rural and urban settings. Its design is also classic which makes it look good whatever your home design is.
Pros:
Attractive design in black and pink colors

Rust-free and UV-resistant material

No assembly required
Cons:
A bit too expensive compared to other products on this list
Owing to its larger size, the EJWOX composter is capable of holding up to 43 gallons of composting material. It has a black chamber which makes it useful for absorbing heat from the sun. Thus dual chamber compost bin is ideal for continuous composting. Its aeration system mixes the compost and allows the required airflow. It also has great tumbler design that turns axis on for balanced and smooth rotation. Its easy slide doors are also a huge plus. 
Moreover, the doors can close up tightly to prevent animals from accessing the contents. It's also watertight, so you shouldn't have to worry about water entering the composter and sogging up the contents.
Pros:
Comes in a dual-chamber design

Made of powder-coated steel frame

Features an aeration system for a more efficient composting
Cons:
Due to its extra capacity, it will be a lot heavier to transfer when full
The Hot Frog composter by FCMP Outdoor is a dual body tumbling composter which comes in a round shape and tumbling design to make the entire process of adding scraps or removing compost a lot quicker and easier. It's very easy to use which makes it perfect for beginners. It has 2 composter bodies which promote consistent flow of healthy and rich compost. Its aeration system is also excellent. Since this is a tumbling composter, the aeration level is far greater than the standard models.
It comes with a total capacity of 37 gallons for the two compartments. Also, since it's made of BPA-free materials, there is no need to worry about chemicals leaching into your compost. Finally, it's highly durable, so you can trust that it stands the test of time.
Pros:
Easy to use thanks to its large openings and removable doors

Made of BPA-free and UV-inhibited materials

Comes in a tumbling design for easy mixing 
Cons:
Takes a while to fully assemble
The Algreen is one of the few compost tumblers that have an excellent capacity, a dual-chamber design, and durable construction at a moderate price tag. It comes with a sliding access door which allows you to add items and remove compost with ease. It has convenient grip handles, durable center axle, rodent-proof design, and more. It's easy to assemble and can tackle 2 batches at once.  
It can hold a maximum load of up to 56 gallons and comes with a center axle which allows you to tumble the compost in a quick and efficient manner.
Pros:
Pretty large capacity of 56 gallons

Comes with a sliding access door
Cons:
Not as durable as the other compost tumblers on this list
Another excellent product from FCMP Outdoor, the YIMBY composter is a dual-chamber compost tumbler which comes with 8 sides. It features a huge removable door to allow quick access to the compost and adding materials with ease. No more manual digging and mixing of compost. This model gets the job done fast and easy. It has an excellent aeration system as well. 
It can hold up to 37 gallons of materials and is very easy to use and assemble. Even beginners can figure it out outright. Also, its deep fins on the side make it easy to turn during the composting process. Its contact safe and won't degrade when exposed to direct sunlight. Finally, its construction is durable, so it really is a worthwhile investment that lasts.
Pros:
Easy to use even for beginners

Quick access to the compost with its removable door

Features excellent aeration with its aeration holes
Cons:
Emptying its contents can be a bit complicated
Conclusion
Of the products reviewed above, the best among the best would be the mini composting tumbler from Envirocycle. Its design makes it very easy to load and unload the contents. Aside from that, you can easily transport it with ease – you don't even need a wheelbarrow or bucket to do that! When it comes to choosing compost tumblers, choose one that suits your needs and budget. It's now easy to spot the best deals online. Just do your homework in looking for the right product for you.
Do you know of any other compost tumblers on the market? If so, please leave a comment below so we can check it out.