Last Updated on October 29, 2022
It was only recently that I realized the importance of strong compost bags. My last bunch of bags couldn't hold all the compost waste that I had from my garden. I'm sure this is a problem a lot of you have experienced as well. Luckily, I found a possible solution to weak paper bags that I'd like to try out – the 30-gallon heavy-duty compost bags lowes.  
Things You Need to Consider When Buying Compost Bags
Back then, I switched my plastic bags with biodegradable compost bags. It was only at that time that I realized the importance of being eco-friendly. Also, I liked the fact that paper bags can be decomposed along with the contents. 
Of course, I had an issue with the durability of mainstream compost bags. A lot of them tore easily, resulting in all of the contents falling over. My garden, in particular, has a lot of wet sticks, dry twigs, plant matter, and leaves. Combine all of those and you'll get some pretty heavy compost. With that, you need to be very meticulous when choosing the right compost bags. Here are a few things to consider:
Durability (being tear-resistant)

Size

Support

Foldability

Weight Capacity

Number of products in a pack
I would say that this is the ideal product for those who want to go green and get rid of plastics. For those who are more traditional and prefer plastic bags, this product might not be that attractive. 
From researching what I should take into consideration when buying a compost bag, I came across one product that pretty much covers all of the criteria that I listed above. Lowe's is a pretty well-known brand and can be pretty comparable to Biobags in terms of quality.
My favorite aspect of this bag is that it is completely durable and tear-resistant. The main pain point that I mentioned above was that most compost bags break easily. This bag, in particular, solves that main pain point of mine. Even though it is made out of paper, it doesn't tear easily unlike other brown paper compost bags. 
Here are a few pros and cons that I have discovered about the product. This allows us to get a more objective view of it:
Pros
The bottom is completely tear-resistant

Can stand on its own

Size as big as garbage cans

Can take 30-gallons of weight
Cons
On the pricey side

Not so sturdy at the top

Not flexible
Features and Benefits
Going deeper, let's take a look at the features and benefits that you can take advantage. We'll list them down here:
The main reason that I mentioned was that it was strong. The main reason for this is most likely because of its double-walled craft paper. There are two layers of paper surrounding the bag, making it good for storing both wet and dry compost.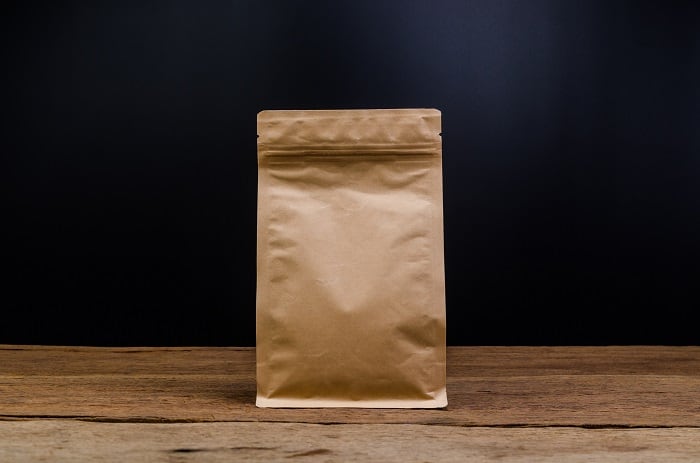 It was built to the shape of a perfect rectangle enabling it to stand perfectly upright when you put it on the ground. Most paper bags can't stand upright and would most likely topple over if you add too many things inside. This one doesn't though because the bottom area is extremely sturdy. The extra weight found at the bottom along with its symmetrical shape allows it to stand without much trouble. I find this a very convenient feature that ensures that my compost doesn't fall over. 
Another thing that you'll notice is that it's a pretty big sized bag. In fact, it is a 30 gallon-sized bag. However, you may want to take note of the dimensions as you might think that it is bigger than it really is. The dimensions of the product are at 16 x 12 x 2.1 inches with a weight capacity of 30 gallons. These dimensions are pretty impressive anyway, so you can put in a lot of compost inside.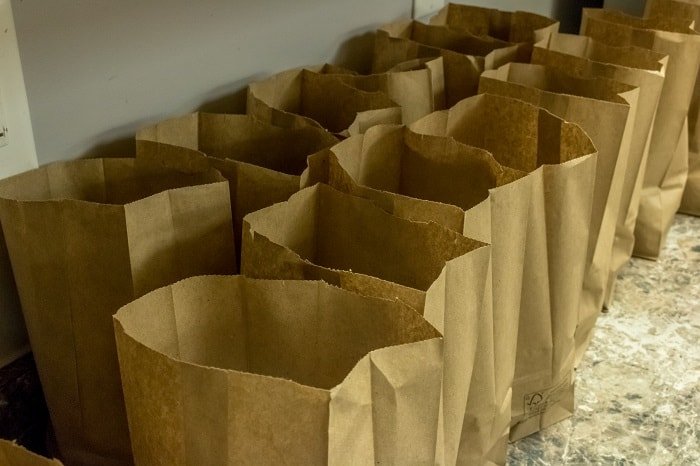 Alternatives to the Main Product
Just to give you a clearer picture of this product, I'd like to also mention a couple of alternatives that are pretty comparable to this product. You can find them below:
The Home Depot compost bag is very similar to our main product being able to take 30-gallons of weight and is pretty much the same size. It can also stand by itself like Lowe's product. While it can take dry material, it does have a hard time taking wet material if you keep it inside for too long. 
Duro Bags is also a pretty good brand that has pretty much the same standing as Lowe's. Like Lowe's, it is able to stand upright, making it convenient for gardeners to keep at the side. One of the best things about this product is that it is covered with wet strength additives, allowing it to take about 50 pounds of weight. That's 20 pounds more than Lowe's paper bag. However, I have seen that customers still prefer the durability of Lowe's. 
The last on the list is the Biobag 33-Gallon compost bag. Biobag is one of the market leaders in the compost bags market, so it's no surprise that it made the list of good alternatives. I could say that Biobag's durability can match or maybe even slightly better than Lowe's. It can be used for any kind of compost whether wet or dry. In fact, it has a leak-proof feature, allowing you to put a lot of wet compost inside without anything dripping out. Of course, it is more expensive than Lowe's but can take 33 gallons of weight. 
FAQ's
Do Lowe's Compost Bags work?
Lowe's Home Improvement has a new product called the "Compost Bags". They claim that these bags are a great way to reduce waste and keep your yard clean. You can use them to collect leaves and other yard debris, to store mulch or garden compost, to protect plants from rain and sun and to catch bugs and worms.
Lowe's has announced that they will be discontinuing the use of plastic bags in favor of compostable bags, so you would imagine that they would invest a lot of resources in making sure that they work.
Yes, the compost bags work! I have used them for years to make my own compost. And I am very pleased with the results. The bag itself is a great product and easy to use. I would recommend them to anyone who wants to make their own compost. They are very affordable. What are they made of? The bag is made of recycled plastic bottles. It is a very strong and durable bag.
I would highly recommend this product. I have been using a large compost bag for a few years now. The bag is easy to use, I just put in a bunch of wood chips (or whatever you like) and cover it up with dirt. After a month or so, I turn the pile over and let the worms eat away at it. Then I use it as mulch. Works great!
What are they made of?
The bag is made of recycled plastic bottles. It is a very strong and durable bag.
The only problem is that they can be hard to use when I need to transport a large load of organic material.
The bins are lined with a plastic or metal liner and have a lid that goes on top.
Is it worth it?
These compostable bags come in a variety of sizes. It's not just the bags either, they also come with their own bin. They are very popular and are considered to be the go-to brand for many compost interested people.
I use the medium size ones for my kitchen scraps. The bags are very well made and the lid is nice and tight. They seem to hold a lot of material, but not too much. 
For many people the price was just too high and it's hard to justify buying them, particulary for those who already had a good compost bin.
Are they sold internationally?
Their bags are sold in the UK and online, as well as at major retail stores, such as John Lewis, Homebase, Argos and Poundland. They have a wide variety of compost bags for sale, including compost bins, green waste bags and multi-purpose compost bags.
Conclusion
I would really recommend that you click here to check out this product if you're a gardener. It helps you have an eco-friendlier garden while giving you the benefit of a strong and durable bag. At the same time, you get a big sized bag that can take a lot of weight.
Josephine is an enthusiastic gardener who loves to spend her spare time tending to her garden. She is passionate about growing her own food, and aspires to one day have her own vegetable garden. Josephine is also an animal lover and often takes in stray cats and dogs. She enjoys spending time with her pets in the garden, and is often seen playing with them or watering her plants. Josephine is an avid reader and enjoys learning about new gardening techniques and plants. She is always looking for ways to improve her garden and make it more beautiful. She is a great friend, always willing to lend a helping hand when needed. Josephine's passion for gardening and love of animals make her a wonderful addition to any garden.