Last Updated on January 26, 2022
If you are an eco-friendly gardener like me, you've probably tried composting household scraps and yard trash to create composts for your garden. While there are best compost suppliers out there, making your own compost is an affordable way to amend your soil and improve the health of your plants. There are numerous compost bins to choose from depending on your needs, space, and budget. 
How Does a Compost Bin Work?
Basically, a compost bin is designed to allow waste organic material to decompose so as to
use it as fertilizer. Compost bins are built with the goal of transforming waste food into nutrient-rich soil that will enhance the growth of your garden and reduce the cost of purchasing chemical fertilizers. 
In order to create compost material, you need a scrap of food waste like vegetable and fruit peels, eggshells, and coffee grounds. You also need other items like dead flowers, leaves, newspaper shreds, grass clippings, and straws. In order to form dark, rich, and earthy compost, you will need to add soil and water to the pile. 
Again, the process of making compost may differ based on the type of compost bin being used. When done the right way, you will end up with rich, clumpy compost that will boost your soil's fertility and improve the health of your plants.
If you are planning to make your own compost, watch this video for guidelines. 
What You Have to Consider When Choosing a Compost Bin
This is probably one of the most crucial factors to consider when shopping for a composter. Basically, there are three types of composters to choose from; batch composters, continuous composters, and indoor composters. Each type has its own pros and cons, which you must evaluate before making your decision.
Batch composters have a tumbling action which makes it possible to turn organic matter into compost within a short period of time. Continuous composters are designed to hold numerous wastes and scraps which are added on a regular basis. The compost formed is removed several times in a year. The other type is indoor composters or worm bins which are designed for indoor use to turn kitchen waste into compost.
The size of the compost bin is an important thing to keep in mind when making your buying decision. Large compost bins are a great choice if you have a vast amount of waste or when you want to make a large compost pile for your yard. However, a drawback of large composters is that they can be difficult to control and mix, owing to the heavy-weight on the axis point.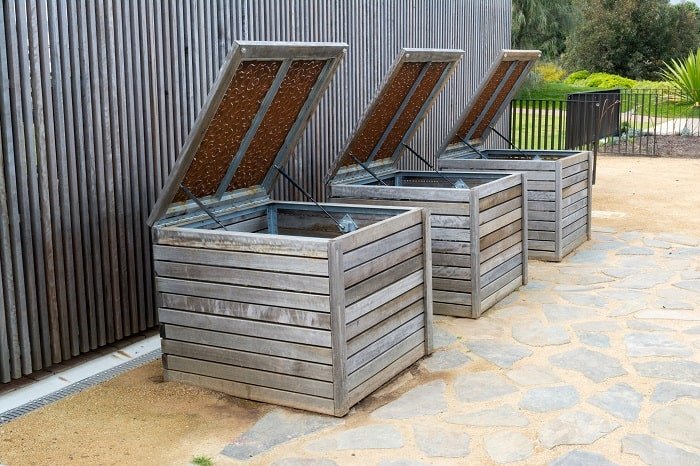 On the other hand, smaller composters can handle small amounts of refuse and don't take much space like their large counterparts. The goal is to choose the right size depending on your needs.
While this factor is often overlooked, it is worth considering before you make any investment. Of course, you want a compost bin that is not only efficient but also very easy to use. This way, you can make the best compost for your garden needs without much struggle. 
Product Reviews
The Envirocycle composting bin is an innovative composting system that is constructed from BPA, food-safe, and rust-proof materials. This model from Envirocycle has an elegant and compact design that makes it perfect for almost any space. 
Made in the USA, this composter weighs around 24.6 lbs and has a 35-gallon capacity, which is adequate for large applications. The drum's door includes an interlocking design that allows you to seal the lid tightly. And thanks to the 3 air vents, there will be optimum airflow in the compost bin.
A unique spec of this model is that it combines both the compost tumbler drum with the compost tea maker base. As the drum rotates to produce solid compost, the base comes in handy in collecting the liquid compost to give liquid tea. This can be used as organic fertilizer in your garden.
Things We Liked:
Ability to make solid and liquid compost

Sturdy design

Food safe, BPA, UV resistant, and rust-free material

Made in the USA
Things We Didn't Like:
This indoor compost bin boasts a compact design that won't take much space in your kitchen. With 1.3 gallon capacity, it makes a great choice for anyone looking for a smaller compost bin to recycle organic waste in the kitchen. 
A great spec is the built-in replaceable charcoal filter that does a great job in trapping and controlling the odor. You can, therefore, collect the scraps in this compost without worrying about it producing a bad odor.
What's more, the bin comes in an impressive, stylish, and sleek design that matches any kitchen decor. Weighing just 2.45lbs, the bin can be placed anywhere you like. Impressively, the grade 201 stainless steel construction is very easy to clean, and it doesn't harbor bacteria or produce dangerous chemicals like plastic materials. It is also very durable, and it does not crack or scratch.
Things We Liked:
High-quality stainless steel construction

Built-in charcoal filter for odor management

Stylish and sleek design

Affordable

Lightweight

Easy to maintain
Things We Didn't Like:
The lid is too tight

Charcoal filter doesn't eliminate odor and

fruit flies
Are you tired of mixing compost by hand? Well, what you need is this tumbling composter by FCMP Outdoor. As the name suggests, the composter comes in a tumbling design that allows you to mix your compost pile with ease. You simply need to turn the composter 5-6 times every two days or so, and you will have a fresh batch of compost in 2 weeks.
One thing that makes this compost stand out is its two-chambered design that ensures a steady supply of compost. The model features two separate sides, allowing you to compost on one side while you leave the other side to add fresh scraps. You can also swap sides in order to create a healthy pile of compost.
FCMP Outdoor IM4000 tumbler composer has a sturdy BPA free; UV protected polypropylene and galvanized steel construction. The tumbler has a capacity of 37 gallons, and it boasts a metal stand for suitable mixing. 
The fact that this compost bin is easy to use makes it a great choice for beginners. You can add scraps and remove compost with ease thanks to the removable door and large openings. Plus, the body features deep fins that offer excellent ergonomic handholds and adjustable air vents for adequate air supply.
Things We Liked:
37-gallon capacity

Dual-chamber design

Adjustable air vents

Durable construction

Great value for money
Things We Didn't Like:
Sliding door freezes shut during winter

Side vents likely to close on their own
With a 65-gallon capacity, this composter boasts a durable, rugged, and weather-proof resin construction that makes it great for outdoor use. Due to its large volume, the bin is the best option for anyone looking for the model for their garden or yard.
This model is equipped with four doors in order to allow additional access points. There is also a handy lift-off lid that allows you to put more waste into the bin with a lot of ease. Best of all are the ventilation holes that are designed to allow adequate oxygen that will help the composting process finish faster. Plus, you can purchase an optional aerator, if you want to speed up the composting process. 
Also, the Redmon Green Culture compost bin is an excellent model for anyone with a tight budget. The bin comes with useful composting instructions to help you assemble it without much difficulty. With these features, you will get the value for your money and improve the health of your yard with time. 
Things We Liked:
Large holding capacity; 65 gallons

4 doors for easy access

Convenient lift-off lid

Easy to assemble design

Affordable

Adequate ventilation holes
Things We Didn't Like:
No base

Prone to cracking in cold weather
The classic soil saver compost bin by Algreen Products is a good option for large households, thanks to its large capacity. When fully assembled, the compost bin measures 28" L * 28" D * 32" Height and holds a capacity of over 90 gallons. 
The bin is constructed from top-notch post-industrial recycled material that renders it extremely durable and long-lasting. The rugged construction makes it possible for the bin to hold massive amounts of organic waste continually.
The classic compost bin features a self-watering locking lid that allows air to move in the bin while keeping animals out. It is equipped with two doors that easily slide, and a wide opening for easy access and removal of the finished compost. Additionally, the open base quickens the composting process by letting water and worms move through the soil.
Things We Liked:
Large capacity

Self-watering locking lid

Thick resin walls for strength and durability

Rugged, BPA-free construction

Large opening for easy retrieval

Affordable option
 Things We Didn't Like: 
Comes with plastic bolts that don't hold very well
Conclusion
If you are planning to start composting at home, the above compost bins are the perfect place to start. Nonetheless, we were more impressed by the Envirocylce Composer, and we have reasons to believe that it tops all the other composters. Apart from the fact that it is dubbed the most beautiful composter in the world, this model is a great choice for anyone who wants to start composting hassle-free. It doesn't require any assembling, and it can make compost faster thanks to its tumbling action. 
We also find it very impressive that this model can produce both solid and liquid compost. The compost tea adds additional nutrients to the soil. With these and more features, you will without a doubt get the value for your money with the Envirocylce compost bin. 
Josephine is an enthusiastic gardener who loves to spend her spare time tending to her garden. She is passionate about growing her own food, and aspires to one day have her own vegetable garden. Josephine is also an animal lover and often takes in stray cats and dogs. She enjoys spending time with her pets in the garden, and is often seen playing with them or watering her plants. Josephine is an avid reader and enjoys learning about new gardening techniques and plants. She is always looking for ways to improve her garden and make it more beautiful. She is a great friend, always willing to lend a helping hand when needed. Josephine's passion for gardening and love of animals make her a wonderful addition to any garden.