Nowadays, people are becoming more enthusiastic about saving the earth in their littlest way. One, simple way to do so is by composting. Composting does not only reduce tons of garbage to be piled up in landfills but it also yields chemical-free products that are beneficial to the family. Furthermore, it also lets you save a few coins from your pocket.
I, for one, can attest to that. Before, we usually buy vegetables and fruits in the market, and sadly, they easily wither off. After that, I tried to grow my own vegetable garden, but still, I am not quite happy with the low-quality produce. So, I tried to make my own compost, with a DIY- composter, in my garden, and luckily, I got to produce healthier vegetables for me and my family to munch on. 
Now, I already have my own vegetable garden but my problem is I cannot extend it further because my DIY composter bin could not accommodate more composts for my garden. Had I known about keter® e-composter 120-gallon compost bin,  I would have bought it then.  This compost bin could hold up to 120 gallons of composts, and it can easily take out the bottom compost by pulling the small compartment in front.
Things to Consider Before You Buy a Compost Bin.
There are a lot of things to consider before you buy a compost bin for your garden. Compost bins are used to hold composts before it can be used in the garden. Anyone can buy a compost bin, may it be a mother who grows her own garden or a gardener who grows and sells plants and vegetables for a living. Some may opt to make a DIY composter, which I did, but for some who prefer a ready-made composter, you can easily buy them at hardware stores or even online. Before purchasing a ready-made composter, you must consider these factors first;
The size of the compost bin would greatly affect the availability of your composts. If you have a smaller compost bin, let's say less than 1 cubic meter, you have to regularly check the contents, temperature, and moisture of your composts to speed up the process. In addition, if you have a large garden, better to buy a compost bin that has a bigger capacity. It is also highly recommended that the height of your compost bin is enough for your pitchfork or shovel to be easily lifted up.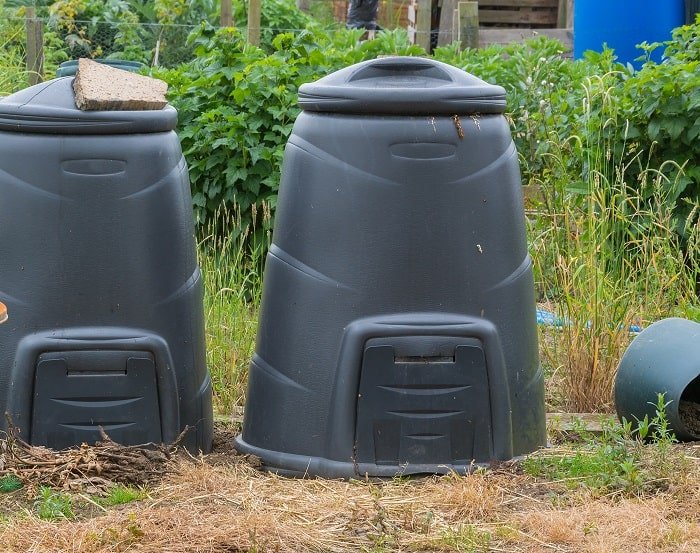 If the compost bin you are planning to buy is a tumbler type, then you would require it to be easily rotated despite its heavy load of materials. But, if you are planning to purchase a single-container compost bin, then it must be able to be easily lifted up and toppled down.
It is highly suggested to purchase a lid with a bigger opening so that you will have easy access for you to add your organic waste to your composts.  
Other compost bins have a sliding trap door or a small compartment in front for you to easily access your finished composts. If you only have a sliding trap door make sure your spade can easily fit through it; if not, you will have to scoop your finished product manually by hand.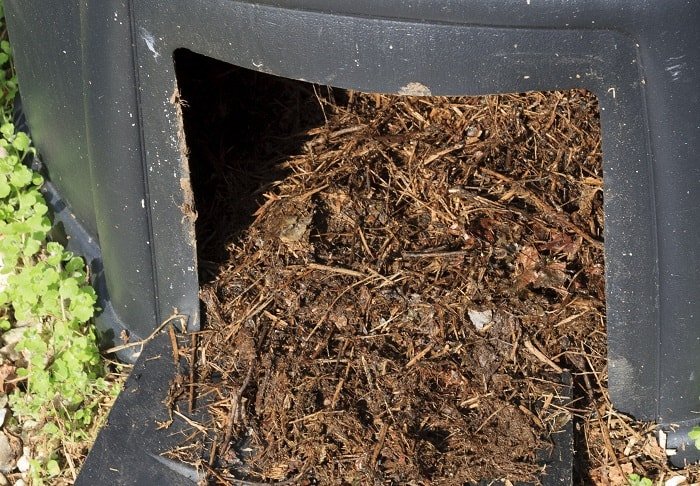 Aeration and Drainage Holes
Water and air are important factors that speed up your composting process. Therefore, the compost bins you are planning to buy must have good aeration and drainage holes for air and water to pass through. 
The Keter E-Composter 120 Gallon compost bin is made from recycled, weather-resistant resin with a slat-like wooden texture that gives a good looking aura to it.  The bin is easy to assemble, and it also has an inner wall connecting system that makes it long-lasting and tough. Furthermore, it has a sleek door that works as a leaf collector plus a watering cup on top that further speeds up composting. It comes in two earthly colors – black and brown, that you could choose from. Actually, this product has a previous version, the Keter Decorative Composter Bin with a smaller 90 Gallon capacity usually used for smaller gardens.
Pros   
It is made of resin which makes it resilient to any weather condition.

Holds up to 120 gallons of compost. 

Made to last long because of its inner wall system. 

It can easily be assembled – even without using tools. 

It is a good looking compost bin. 
Cons
Once you assembled it, you cannot undo it. 

It has a shorter warranty period. 

Only two colors to choose from. 
Features and Benefits
The most significant feature of this product is its capacity to hold a bigger amount of compost. It can hold up to 120 gallons, or 340 Litres, of compost. It is very important especially for gardeners who have wide gardens or even for a bigger household that has tons of organic waste to dispose of. If you want to see the full capacity of the product click here.
Dual-purpose Door
The next essential feature of the product is its dual-purpose door. Earlier, we have discussed the importance of a wider-opening lid to give easy access to your waste products to the compost. This dual-purpose door is not only big enough for your garbage, but it also serves as a leaf collector for the neighboring trees. It doesn't not only make your composting process faster but it also makes your composting journey more convenient. 
Long-lasting Compost Bin
Another feature that makes the product a good buy is its inner wall connecting system which makes your compost bin long-lasting. Furthermore, it also has a watering cup at the top to speed up your composting process. This is very important especially for big-time gardeners, and even for the small ones too because there will be no need to buy compost bins again and again. 
Nice Design
Last but not least, you wouldn't want your bin to be looking like scrap, just because it has loads of scrap in it. You want your compost bin to be looking sleek and in style without compromising its quality. The Keter E-Composter 120 Gallon is made of high-quality resin, which makes it resistant to any weather condition, with a  slat-like wooden texture in it. It also comes in two variants: brown and black, which gives a natural look to it. To have a good picture of it just click here.
Alternatives
If you are not convinced of the product, then there are still other options you could choose from. Some of which are:
Garden Composter Bin by D.F. Omer
The Garden Composter Bin by D.F. Omer has a 110-gallon capacity, slightly lower than the Keter E-Composter, yet more expensive. It is made from recycled plastic, BPA-free, furthermore, the black PP plastic regulates moisture and heat in the composts that means a shorter period of composting time. The Garden Composter is also easy to assemble and comes with a secure lid that keeps unwanted critters from meddling with your food scrap. 
Garden Composter
Keter E-Composter

110-gallon capacity

2-years warranty coverage

Easy to assemble

Price is high than Keter´s

120-gallon capacity

1-year warranty coverage

Easy to assemble

Price is cheaper
Envirocycle, as they say, is the most beautiful compost bin in the world. Made of BPA and rust free products, this innovation has a sleek style to it that you could place on your balcony, patio, porch, or garden. Moreover, it has pioneered an innovative design that allows this bin to produce solid and even liquid compost. To produce a solid compost, just rotate the drum slightly above the base, consequently, the base collects the precious liquid which could also serve as a compost tea, a liquid fertilizer. Because of these features, it is expected that the Envirocycle is more on the expensive side. 
Epica Compost Bin is made of durable, rust-resistant stainless steel and has the capacity of only 1.3 Gallons. Because of its size, it is not recommended for use in a wide area garden but can only be used for small-time gardeners. But, the good thing about its size is that it can be placed on countertops which means you can easily put your organic waste in the bin. Additionally, there will be no more foul-smelling compost bins in your household, for the key feature of this product is that the lid comes with a replaceable activated charcoal filter that controls the pungent smell of your scrap. Compared to Keter E-Composter, Epica Stainless Steel is more affordable for our budget. 
Epica Stainless Steel
Keter E-Composter

1.3 Gallon Capacity

No assembly required

Can be used indoors

Price is cheaper

120 Gallon capacity

Easy to assemble

Too big to be used indoors

Price is high than Wpica´s
If you want to learn more about the alternative products, you can easily click the product for the link or if you want more details you can search for other online stores.  
Conclusion:
Composting entails dirty work but for a good cause. When buying compost bins, you must make sure that the bin can last long and hold a good amount of composts. Failure to do so would mean the hustle of buying a new product again and extra costs for your garden. The Keter E-compost would be a great solution for all these problems. If you are interested to know more about the product, you can just click here.