Are you worried that your lawn isn't growing as healthy as your neighbors? Or are they not green enough? Then you probably need to feed it the right food so it can grow healthily. In this article, we will be reviewing the organic lawn food from Scotts and find out why it is so popular among many lawn owners. Before we get into what makes Scotts Organic Fertilizer a trusted brand, I will first like to enlighten us about what to look out for in an eco-friendly and effective fertilizer. 
What to Look Out for in a Fertilizer 
Before you spend your hard-earned cash on any food for your lawn, you need to ensure that you:
Check the label to see that it doesn't contain any toxic chemical compound that may be harmful to your health and the environment. You should double-check to see that it is made from only naturally occurring minerals that are truly organic. 

It should have the required dosage for administration or direction on how to use it. This makes it easy for you to know how to apply the product to your lawn/garden. 

You should check the ratio of the minerals in the mixture. This makes it easy for you to know the nutrient serving in the package.

Your lawn needs

nitrogen (N), phosphorus (P), and potassium (K) to be able to grow properly and also needs the nutrients in the right ratio. The ratio of nutrient application recommended for lawn is N-P-K 3:1:2. 

You should also take note of the type of nitrogen fertilizer that was used in the product. Some products use a controlled-release and others the fast-release nitrogen. The main difference in both nitrogen fertilizer types is that the controlled-release promotes growth at a rapid level while the application of fast-release nitrogen fertilizer results in a speedy growth. If you want a greener looking lawn in the shortest possible time, then you should apply the fast-release nitrogen fertilizer. 
Scotts Organic Lawn Fertilizer 
The Scotts Organic Lawn Fertilizer is a natural alternative for lawn owners who are in need of a chemical-free fertilizer that isn't harmful to their family, pets, and to the neighbors. With the use of Scotts Organic Lawn Fertilizer, home-owners can be sure of a greener looking lawn and not have to worry about the dog sniffing around the newly treated lawn. Made from completely natural ingredients, which means there is no fear of toxicity when you inhale the product or it comes in contact with your skin. 
The organic fertilizer is a suitable choice if you are shopping for a fertilizer that can grow greener trees in a short time. You can use the Scotts lawn food at any season when you need your lawn looking fresh and healthy. It is also safe to use the product on any lawn type or size. The natural smell of the fertilizer isn't toxic to inhale and dissipates quickly immediately after application. 
There are worries that dogs often get themselves interested in the product and often eat it because it kind of smells like chicken poo. But it is completely harmless to pets and kids even when it is ingested. 
The main ingredients in the fertilizer are nitrogen (N) phosphorus (P) and potassium (K) which is combined in a ratio that will be easily absorbed by the plant roots and encourages rapid growth. 
What are the Benefits of Using Scotts Organic Lawn Fertilizer?
The use of Scotts organic lawn food on your front yard or back yard has numerous benefits including  
Made from completely organic minerals that are safe for both plants and animals. 

There are no added chemical compounds that can increase the soil toxicity or harm kids and pets. 

The use of the fertilizer results in the growth of fresh-looking grass that adds more beauty to your property. 

It is a quick way to grow your lawn in the shortest possible time. 

It can be used at any season to improve the appearance of your lawn. 

The 30-pound bag can be applied on a 4000 sq ft area making it a good value for your money. 

It is safe to use on all types of grass. 

It is easy to use; all you need do is apply it directly to a dry or wet lawn. It is required you use a Scotts spreader for the best results.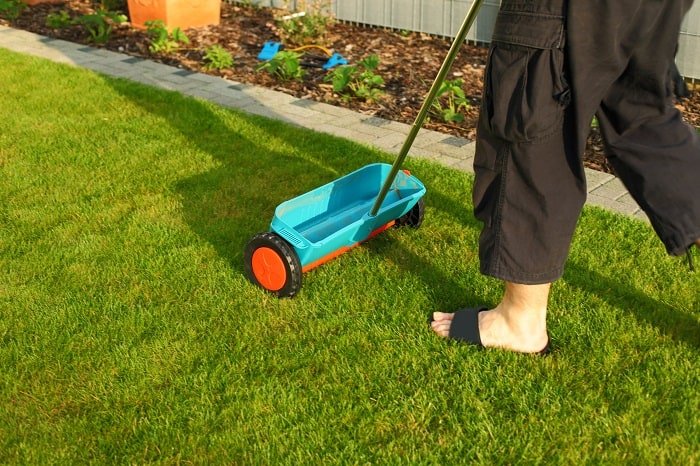 How to Use/Directions 
You can apply the fertilizer directly to dry or wet lawn, but you need to be careful not to apply too much on a specific area to prevent the grass from turning yellow. When you notice yellowish grass after application, it only means that you used too much of the product in that area of the lawn. 
You can also apply them to fresh seeds or use it while over-seeding; it also works well in an area with a hot climate.  The best time to use the fertilizer on your lawn is immediately the rainy season begins, and you can apply it at intervals up to 4 times a year. You can use it on acidic soil to help balance out the pH of the soil and improve plant growth in the region. 
You can purchase Scotts Organic Lawn Fertilizer here.
Other Notable Alternatives 
Organic fertilizer packed with Iron for healthy trees, flowers, plants, and lawn. 
This organic fertilizer is safe for use when growing crops like tomatoes on your lawn. 
Natural lawn fertilizer with a lot of application and can be used by spraying the content all over the lawn with the aid of a garden hose. 
What kind of chemical product do you use on your lawn? Are you satisfied with how the shrubs in your lawn are growing? Let us know in the comment section. We will like to hear from you. Also, if you find this article interesting and informational, we will be glad if you can share it with others.